---
Research
My research interests include physics-based animation, fluid-structure interaction, and modeling and simulation of the mechanics of biological cells.
---
Courses
SIGGRAPH 2019 Physics-based animation (with A. Bargteil)

SIGGRAPH 2018 Physics-based animation (with A. Bargteil)

---
Videos
An extended partitioned method for conservative solid-fluid coupling (with M. Akbay, N. Nobles, and V. Zordan)

Emergent phenomena in micro-macro models of microtubule gliding assays (with C. Hohenegger, and S. Cook)

Microtubule-based motion in the single-celled C. elegans embryo (with M. Mana, F. Piano, and M. Shelley)



Stokes flow in a complex geometry coupled to dynamic rigid structures and filaments (with M. Shelley)



Two-way coupling of fluids to rigid and deformable solids and shells (with A. Robinson-Mosher, J. Gretarsson, J. Su, and R. Fedkiw)



---
Publications
Thesis
---
Students
Current Students
Jason Goulding
Mehrnaz Ayazi
Former Students
Muzaffer Akbay, Oculus VR, Ph.D., 2018
Steven Cook, Novartis Research Foundation, Ph.D., 2017
Nicholas Nobles, M.S., 2017
Wojciech Karas, M.S., 2016
Paul Cernea, M.S., 2015
Lingli Wang, M.S., 2014
---
Teaching
CS 210 : Scientific Computing (Fall 2021, Fall 2020, Fall 2019, Fall 2018, Spring 2018, Spring 2017, Spring 2016, Winter 2015, Fall 2012)
CS 179N : Computer Graphics (Summer 2021, Summer 2021, Spring 2020, Spring 2019)
CS 130 : Computer Graphics (Winter 2021, Winter 2020, Winter 2019, Winter 2018, Fall 2017, Fall 2015, Winter 2013, Spring 2012)
CS 230 : Computer Graphics (Winter 2016, Fall 2014, Winter 2012)
CS 30 : Introduction to Computational Science and Engineering (Spring 2015, Spring 2014)
CS 260 : Physics-Based Simulation for Computer Graphics (Spring 2013)
---
Outreach
Project Lead the Way Mentor, Martin Luther King High School, Riverside, CA
I was a mentor in the Technovation Challenge program in NYC. Our team won 1st place in NYC and went on to the national competition at Google HQ where we placed 3rd overall! Go Firebirds! Read about the team and our winning app in this Huffington Post article.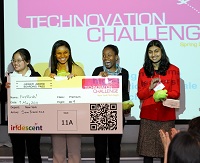 ---
Links
drawings