Below is an image of some sample pieces that I used to send to potential customers to convince them I knew what I was doing.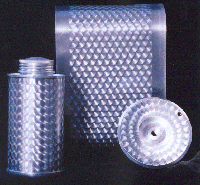 (Click on image for a "zoom-in")
After Tom Kreid died I continue to do some freelance engine turning, to help pay my way through college (and for fun!). The image below shows a Ferrari molding, doing the complete set of moldings for this automobile paid my tuition for a semester in 1995.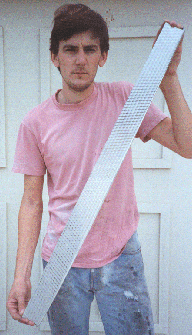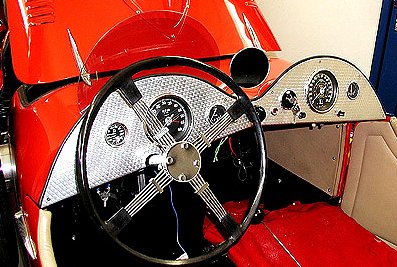 Above is an Allard J2X dashboard I did in 2001. The owner bought his first Allard in 1953! So he is quite an expert on them. Below is an excerpt from the email he sent me to acknowledge receipt of the part.
"The panel is superb.....even better than I had hoped for. Actually it's far better than some of the original ones I am familiar with. Thanks so much for your wonderful work and incredible speed in which it was accomplished. If you ever need a testimonial, please call on us."
Below is a dash I did in 2005. This piece was the first time I had do a part twice, as the first time the number of rows was not exactly the same as the original vehicle (someone tracked down a old photo) I did it for free the second time, since only perfection is good enough for me.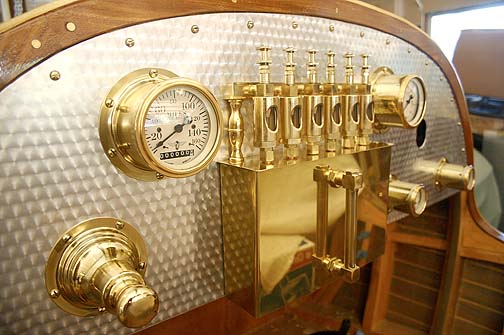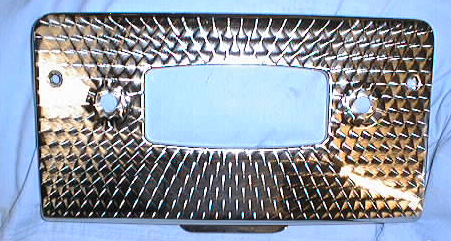 Here is a typical item that I am asked to do. This is a glovebox for a Willys Jeepster. It looks really beautiful in daylight, photographs just don't do it justice.
Below is a Dash Fascia I did for the noted artist and car collector, William Spear. He was so happy with the first one, he asked me to do nine more! So if you need one...